HEADLINES
CLUTCH CONTINUES EUROPEAN DOMINATION - SWEDEN IN STORE CONFIRMED
Posted: 11/18/2011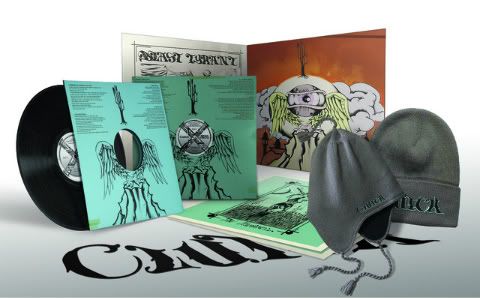 Prolific hard rockers
CLUTCH
are wrapping up their European tour with Volbeat today. The guys will continue their tour with a string of headlining shows through Scandanavia. Kamchatka will be providing support on these dates.
CLUTCH
have just confirmed an in store performance and signing for November 27th at Bengans in Goteberg, Sweden. The band will perform a special acoustic set. More information can be found
here
and
here
.
Weathermaker Music will release the long awaited deluxe, double vinyl edition of
CLUTCH
's classic 2004 opus "Blast Tyrant" on November 29th via Indiemerchstore.com. Those pre-ordering the 181 gram vinyl package from the site prior to November 21st will also receive the limited edition
CLUTCH
Winter Tyrant Beanie and 24" die cut logo snowboard sticker!
The double vinyl package will also be available at North American retail outlets prior to the holidays. On December 13th, Weathermaker Music will release to
CLUTCH
friendly retailers, a limited amount of Blast Tyrant vinyl which will include an exclusive 7" picture disc, of which only the
CLUTCH
band members know the content! Look for a special announcement when the band returns from their European tour.
In addition to their already scheduled holiday shows,
CLUTCH
have added two shows in Austin, Texas on December 17th and December 18th. The show on the 17th will be at the brand new Emo's East and the show the following night will be a very intimate show with
CLUTCH
playing at the Emo's Inside Room. Tickets for both shows are on sale today. There will also be a limited number of VIP tickets for both shows.
CLUTCH HOLIDAY 2011 TOUR DATES
12/17 - Austin, TX @ Emo's East
12/18 - Austin, TX @ Emo's - Inside Room
12/27 - Boston, MA @ House of Blues
12/28 - Portland, ME @ The State Theater
12/29 - Syracuse, NY @ Westcott Theater
12/30 - Sayreville, NJ @ Starland Ballroom
12/31 - Philadelphia, PA @ Trocadero

For more info be sure to visit:
http://www.pro-rock.com
http://weathermakermusic.com/
Book of Bad Decisions

PURCHASE NOW
Follow On Spotify
Connect With Clutch
@ClutchOfficial
Link 46 years ago TODAY, ZZ Top released their milestone album Tres Hombres which includes "Prec… Link @clutchofficial
26 Jul
Thanks to all for making ERF3 another great Summer day. Link @clutchofficial
23 Jul
ERF 3 schedule- TOMORROW! 9am Gates open to parking and campsite areas. 12 noon Gates open to concert area. ROCK SC… Link @clutchofficial
12 Jul
Enter our Playlist Contest for a chance to win a grand prize as we continue to release new singles from the Clutch… Link @clutchofficial
11 Jul
Follow Us!

@ClutchOfficial
Get Some

New Merch
Buy

Tickets